Welcome to AnatomyWorld.com:


Our Goal Is Simple
We believe AnatomyWorld has the largest collection of real 3D anatomy content of any site on the Internet. Using that content we have developed a unique 3D learning experience at a remarkably reasonable price. Teachers, students, health care professionals or anyone interested in anatomy will find great value in this site.
Our focus is on human anatomy. Every muscle, every organ, every bone, if it's in the human body it's on AnatomyWorld. Some models are simple, some are very complex. All are realistic and suitable for levels 5-University.

---

Latest Technology
Besides the best 3D content, this site features the latest in 3D real-time rendering technology from Right Hemisphere. Using their Deep View engine, AnatomyWorld provides unprecedented control over the 3D worlds, equal to, and sometimes superior to software programs costing thousands of dollars.
---
What We Offer:
AnatomyWorld lets the visitor open an anatomy scene and completely control how it is viewed. Standard tools will zoom, rotate and pan, and dozens of advanced tools will let you hide, slice, move parts, control lights and print.
One of the neatest features of the site is the ability of some of the scenes to play an animation, like a beating heart while you are moving the scene through the 3D XYZ coordinates. It's the ultimate 3D experience.
FOR CHIROPRACTORS and other health care professionals, we offer every joint and every muscle in the body. The complete nervous system is present and several models of degenerative processes played as animations are available.
FOR DENTISTS, we offer complete normal anatomy, including a highly detailed cross-section of several teeth. In addition we offer several animations of over-bite, under-bite, cross-bite and malocclusion. In addition we offer a unique skull/jaw complete with muscles of mastication and innervation.
FOR MASSAGE THERAPISTS, we offer several dynamic muscle models and will soon offer a new model with embedded Trigger Points.
NOTE: AnatomyWorld 3D Worlds are only accessible to Windows computers using Internet Explorer. The software required to enter the Anatomy Worlds is Windows only and is not recognized by FireFox or Chrome. No MACS, unless running Parallel Windows Emulation software and using IE as your browser.
IMAGE DOWNLOAD AREA NOW OPEN:
Purchase our special three day subscription to our image download area and download almost 1,600 quality anatomy inspired images for your personal use.
What's New!
---
New D.I.G.I.T. Digital Image Collections by Dr. Joe Ventura
Less than 14¢ per image!
Available as either a download or on CD, this is a collection of 1,864 Human Anatomy images created by Dr. Joe Ventura.

This easy to use software lets you scan through the collections, select the images you want and then instantly output the image as a jpg file. Most images are a resolution of 800x600, suitable for personal print, website or PowerPoint projects.

The software contains various collections of images. They include:

Skeletal System
Organ System
Nervous System
Body Images
Muscle System
Atlas Art
Thoracic Art
Lumbar Art
Pelvis Art
Teeth Art
Misc.
---
Anatomy Fine Art Prints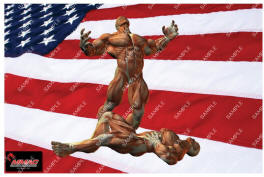 Over 1,000 anatomy art prints to choose from. All sized at 24"x36" and printed on heavy glossy photo stock or fine art canvas. Select Fine Art Prints from the Art Gallery menu above
---


Contact us | View site map